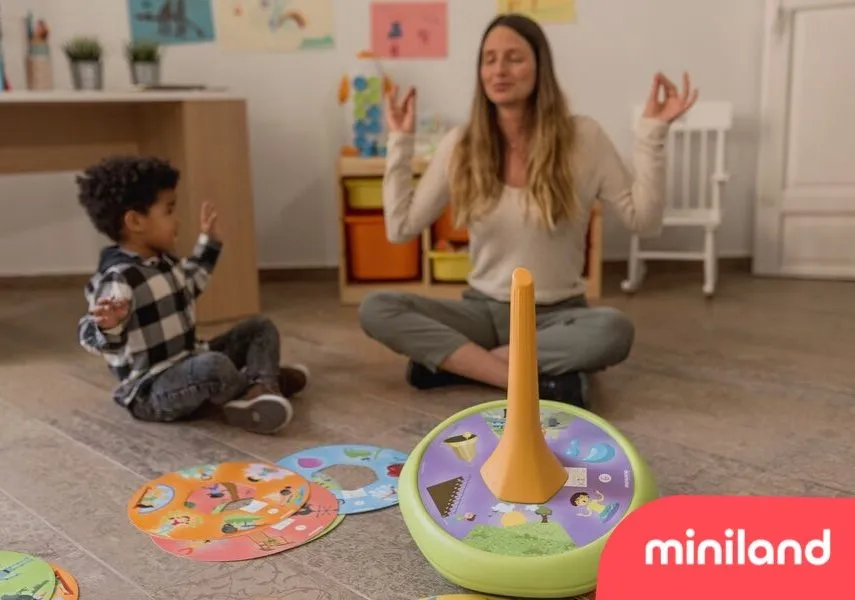 Mindfulness is a great ally to encourage concentration, cooperation and the promotion of skills and abilities that children will need later on.
Don't you know about Mindfulness yet? It is an interesting learning method that promotes conscious meditation, self-knowledge and emotional intelligence.
The benefits of this technique have proven to be so good that it has crossed the barriers of the adult world to reach the little ones in the house!
Mindfulness in the classroom: an enriching experience
Using it as an educational tool reveals the potential of mindfulness in the infant classroom as something unquestionable. It is such an innovative methodology in the classroom that its application with high effectiveness sessions was very complicated.
Before, the teachers did not have the support and the material and technical resources designed for this purpose. That is why from Miniland we wanted to provide you all with this powerful resource so that you can put it into practice both in the classroom and home in the simplest way possible.
Mindful KIDS is an effective educational tool for children between 2 and 7 years old, which is also a game they will love to play.
The exercises it proposes offer countless benefits, among which we highlight these five:
Reduces stress and helps regulate their emotions The game promotes calm in the youngest, while they learn reflection and empathy. The mindfulness techniques in the children's classroom make children more open to teamwork and much more understanding of each other.
Regular practice of the MindFul KIDS exercises promotes skills such as creativity, critical thinking, mathematical logic and communication skills.
Through this game, children's multiple intelligences can be worked on and their individual potentialities boosted. Specifically, MindFul KIDS stimulates Active and Corporal Intelligence, Emotional Intelligence and Language Intelligence.
In addition, through play, patience and respect for others are worked on, also achieving greater personal well-being.
36 complete activities in physical and digital
This product combines the double resource of real and interactive game thanks to the educational resource platform Teach&Play.
Through Teach&Play, you can access the digital version of MindFul KIDS, which extends the physical game with an inexhaustible amount of options and educational material of high value, each material explained in its game guide.
The game includes a spinning top and different discs that are inserted into top of it and allow children to perform breathing exercises, relaxation, meditation, yoga, massage and downloadable mandalas for coloring at home.
With all this, MindFul KIDS offers 36 fun activities grouped into 4 major themes: nature, animals, culture, habits and daily routines.
Do you still need more to start working on Mindfulness and Yoga?